Kappa Alpha Theta
Kappa Alpha Theta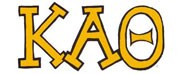 "Theta"
1517 McCain Ln.
Flower: Black and Gold Pansy
Colors: Black and Gold
Many "in house" specials are available featuring the Kappa Alpha Theta sorority colors and flowers. Arrangements you see in other colors or flowers can usually be designed in Kappa Alpha Theta colors & flower. Just check with us! We have several beautiful vases and containers in black and gold, as well as simple clear glass vases. Let us custom design a trendy, traditional, high-style, or European-look floral gift for your Greek gal. We'll be happy to guide you in your options.
We have lots of choices in all prices ranges.
Each & every order is special to us!
We are able to personalize your order, as well- Ask us!!!